Pediatric Radiology Journal
Important Submission Information
Manuscripts are processed in Editorial Manager (http://prad.edmgr.com). When submitting for the first time in this system, you will need to register and update your account.
If you have questions or concerns, please contact the America's Editorial Office at rad-ped-radiol-journal@med.umich.edu or 734-232-9236.
Pediatric Radiology Journal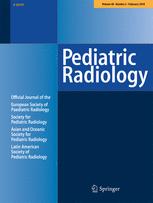 Pediatric Radiology is the official journal of The Society for Pediatric Radiology. It is a benefit of Society membership. The full text is available online to members.

How to access Pediatric Radiology: Click here for access to Pediatric Radiology (SPR website log in credentials required)
How to participate in Member Only Journal-Based CME Activities: All activities are administered via XPress. If you are a first-time user, further instructions are provided here.
---
Journal Resources
Advertising & Media Info
For information on advertising and media, please click here and view this year's advertising rate card.
Conflict of Interest Form for Authors
To download Springer's conflict of interest form for Authors, please click here.
Permissions
Click here to obtain permission to reuse Springer content.
Online Manuscript Submission
To submit an online manuscript, please click here.
This podcast is no longer available.